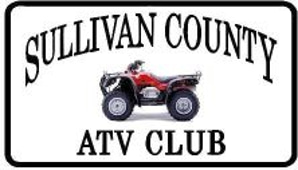 Trail Alert: The bridge on Cornish Turnpike at the Cornish end has sustained major damage and is very dangerous to cross. We are working with the local snowmobile club to repair it as soon as possible.
Sullivan County ATV Club has approximately 50 miles of trails, ranging in terrain from the flat Rail Bed for beginners to rocky technical trail for the experienced rider.
Sugar River Recreational Rail Trail – 9 mile State owned rail bed from the Newport Recreation Department on Belknap Ave to the trail parking on Washington St. in Claremont. With two historic covered bridges, this trail can only accommodate 50" wide OHRVs due to 8 state gates .
Off from the Rail Trail are the Mica Mine trails. These are technical trails leading to the Mica Mine with beautiful views of downtown Claremont and Mt. Ascutney. You'll find the actual mine with mica shining all around.
Cat Hole Trails – Follow Veteran's Park Rd. up to Cat Hole Rd. Please follow the 10 MPH speed limit signs, stay to the right and be courteous to local drivers and neighbors. Most trails in this area are wide enough for 65″.
Please be respectful riding through the neighborhood.
Note most of these trails are very technical and are for experienced riders. Cat Hole Rd straight to the Powerlines and scenic views is good for those with less experience.
Trails within Cat Hole: Bruce's – Stagecoach – Warming Hut – Cat Hole – Cat Hole By-Pass- Powerlines
Fitch Reservoir – Whitewater Brook – Cornish Turnpike – Vern's – Chapin Pond – Fred's – Ernie's (50″)- Marko's
Arrowhead Ski Area – Parking in the ski area lot. Up to 65″ wide. 4.5 mile loop. The trail will take you up to the peak. Be sure to look for the log cabin under the flag. No Trail Bikes allowed across the field on the loop.
___________________________________________________
Parking
Rail Trail Parking: Newport Side: next to the Newport Recreational Department. From the center of Newport, head ¼ mile north on Route 10 and turn left onto Belknap Avenue. Parking is located 1/10 of a mile from this turn.
Claremont Side: Trail Head on Washington St., Routes 11 and 103past the Home Depot store.
Burger King Parking – park in designated sections of the restaurant lot and ride the BK trail to Veteran's Park Rd. to Cat Hole.
Cat Hole Landing Lot – There is limited parking here at the old log landing. Located at the end of Cat Hole Rd as it turns to Class IV road.
Arrowhead Recreation Area – 18 Robert Easter Way, Off South St. Near Claremont Middle School, Trail goes up the side of the mountain. Yeild to all foot and bicycle traffic.
WINTER
SCATV trail system closes to winter riding on November 1st or at first plowable snow.
We honor May 23rd as the State Opening Day every year and may open later depending on trail conditions.
SCATV Opening Day will always depend on trail conditions and damage from winter and mud seasons.
RESPECT – When riding other allowed trail locations during the winter, please ride only when there is enough "groomable" snow and when temperatures are below freezing at 32 degrees and always give groomers the right of way.
Rule of thumb: if it is warm enough to rut or damage the snowmobile trail then please wait for a colder day. Mud/Water holes should be frozen solid. Please RESPECT the winter trail needs for snowmobiling.
The state owned Sugar River Recreational Rail Trail is open year round with state trailhead parking across from the storage units on Washington St. in Claremont and on Belknap Rd. in Newport. Width restriction is 50″.
Please respect the Landowner and SCATV members who do follow the rules.
Watch for signs. Not all snowmobile trails are open to ATVs UTVs.